Archives by date
You are browsing the site archives by date.
Venue:  Irving K Barber Learning Centre, Room 182 (The Victoria Theatre located in the lower concourse) – 1961 East Mall, UBC. Time:  10:00 a.m. – 3:00 p.m. Date:  Saturday, October 20, 2018 To RSVP and for more information about the program, visit the event page via UBC Applied Science.
Come hear about the Engineering Physics Program in Hennings 200!  Bring your questions.

Congratulations to all the competitors for an amazing event.  Well done! Team Admiral Trackbar: "We got a taste of how much work it takes to do a seemingly straightforward task. We realized the importance of defining the scope of the problem you want to solve, and setting realistic goals. If you keep these in mind […]

The Engineering Physics Robot Competition will be held on Thursday, August 9 beginning at 10:00 a.m. in the UBC LIFE Building Theatre – Room 2201. Arrive at 9:50 latest. The theme is Star Wars and this year's competition promises to be one of the best! L to R:  Frank Jia, Alberto Misail, and Cheng (Charles) Qian. […]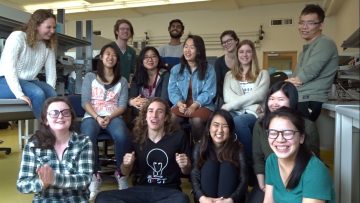 Congratulations Engineering Physics students Giulio Sucar and Jessica Ma for a second place finish in both categories – the open challenge and the fixed challenge – of the NeurotechX 2018 competition! The team made an app that measures ADD biomarkers, aiming for an objective ADD / ADHD diagnostic, and built a full EEG acquisition system, […]

Congratulations to Engineering Physics student Jenny Yang and her partner, Computer Engineering student Navjashan Singh for their outstanding work at the Canadian Engineering Competition in Toronto! The team placed fourth in a very tight scoring for best programming.

Left to Right: Anthony Ydenberg (WEC2018 Chair), Navjashan Singh, Jenny Yang, Spencer Pollock (Director of Programming) Congratulations Jenny Yang and Navjashan Singh! "The Western Engineering Competition (WEC) is Canada's largest undergraduate engineering competition and is an annual, three-day event which involves 12 – 14 universities from across western Canada. It was founded in 1985 with […]