Archives by date
You are browsing the site archives by date.

On the occasion of the 40th Anniversary of the Eng Phys Project Lab, and the reunion of the Eng Phys class of '78, we are proud to announce the creation of the Boye Ahlborn Endowment for the Engineering Physics Project Laboratory,  seeded and created by a generous initial donation from Scott Phillips (ENPH'89), Founder and […]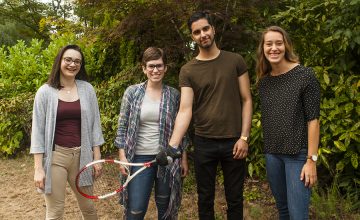 Engineers in Science program students create a device to assist quadriplegic athletes in Innovative Design for Accessibility challenge, placing second in the competition.  The UBC team:  Carly Jones (second from left) – 2017 graduate of Engineering Physics, Jeanie Malone, Taylor Molde, and Avineet Randhawa are Master's students in the School of Biomedical Engineering. UBC Faculty […]

Congratulations to all the competitors for an amazing event.  Well done! Team Admiral Trackbar: "We got a taste of how much work it takes to do a seemingly straightforward task. We realized the importance of defining the scope of the problem you want to solve, and setting realistic goals. If you keep these in mind […]

The Engineering Physics Robot Competition will be held on Thursday, August 9 beginning at 10:00 a.m. in the UBC LIFE Building Theatre – Room 2201. Arrive at 9:50 latest. The theme is Star Wars and this year's competition promises to be one of the best! L to R:  Frank Jia, Alberto Misail, and Cheng (Charles) Qian. […]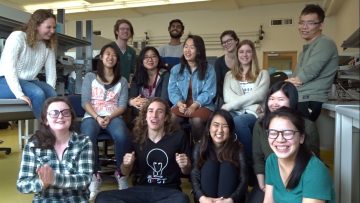 Congratulations Engineering Physics students Giulio Sucar and Jessica Ma for a second place finish in both categories – the open challenge and the fixed challenge – of the NeurotechX 2018 competition! The team made an app that measures ADD biomarkers, aiming for an objective ADD / ADHD diagnostic, and built a full EEG acquisition system, […]

Congratulations to Engineering Physics student Jenny Yang and her partner, Computer Engineering student Navjashan Singh for their outstanding work at the Canadian Engineering Competition in Toronto! The team placed fourth in a very tight scoring for best programming.