Archives by date
You are browsing the site archives by date.

Guest speaker Carl Hansen, Project Fair and Alumni Night, April 11, 2023 at the UBC Alumni Centre.
Photo ©LouDahl

Instructor Miti Isbasescu presenting the Ed Auld Award to Ray Su for his project researching strongly correlated electronic states of two dimensional moiré graphene superlattices and developing a platform that can be used to investigate the band structure of materials by modulating electromagnetic fields. Su's work culminated in discovering superconductivity in Twisted Double Bilayer Graphene Stabilized by Tungsten Diselenide. Photo ©LouDahl

Fun at the 2023 Project Fair held at the UBC Alumni Centre on April 11. L – R: Nicholas Carr, Matthew Egan, Alex Kneifel, and Gus Tahara-Edmonds. Photo ©LouDahl

L – R: James Taylor, CEO, Precision Nanosystems, Class of 2002; Andrew Booth, CFO, AbCellera Biologics, Class of 1999; Carl Hansen, CEO, AbCellera Biologics, Class of 2000; Boye Ahlborn, Prof. Emeritus, UBC PHAS, founder of the Project Lab in 1978; Scott Phillips, President, StarFish Medical, Class of 1989; Colin Harris, serial entrepreneur, Class of 1980.
Photo ©LouDahl

Recent grad. Kevin Huang working at Tesla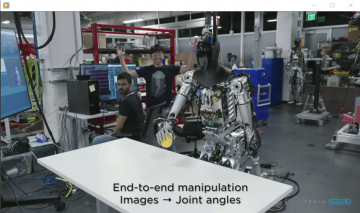 Engineering Physics Instructor Miti Isbasescu recognized for his forward-thinking teaching of Artificial Intelligence. UBC News
In 2018 Program alumnus Scott Phillips set an ambitious goal to raise $2M in support of the Engineering Physics Project Lab. Phillips got the ball rolling with a contribution of $250K. Matching contributions were made by tech. entrepreneurs Andrew Booth, Carl Hansen, and James Taylor. 5 years later, that $2M goal is within reach, with […]
The First Year Engineering Program Fair is for students interested in more information about the engineering programs. Students, staff and professors from the engineering programs will be on hand to answer your questions! Friday, March 10 from 10:00 – 3:00 in the Fred Kaiser Atrium.
Dear Students, To apply for Engineering Physics for winter term 2023 please follow the next steps carefully: 1. Record a short video of yourself addressing the questions below. The video must be no more than 5 min and recorded in a single take. Please do not edit the video after recording (We are imposing this […]
Please attend this session to learn more about Engineering Physics and to ask any questions you may have about our admission process. If you have a class that ends at 12:50, come by when it ends.  Bring your lunch.