Archives by date
You are browsing the site archives by date.
Engineering Physics 2020 Alum Arthur Chen's Start Up company, Verdi, has developed a customizable water and fertilizer delivery system featured at TechCrunch Disrupt 2021, a Silicon Valley platform for young start ups.  What began as a project in ENPH 459 with Jessica Chapman and Nishad Jamaldeen has become a sought-after technology in agriculture.  Verdi's next […]

Autonomous Sweeping Service Bot wins ENPH 253 Robot Competition. Congratulations! (L – R) Kevin Barr, Mackenzie Mar, Ashli Forbes, Tristan Laughlin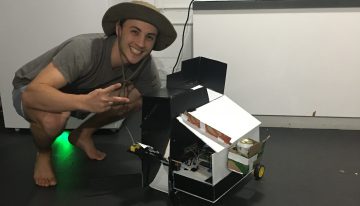 The theme this year is "Return Samples From Mars."  Bernhard Zender of the Engineering Physics Project Lab explains the concept: "Teams have to grab cans (aka samples), stash them on their robot, and place them in a rack which presumably would be on the rocket, for traveling back to Earth. Teams are invited to include […]
Engineering Physics student Krysten Zissos receives a 2021 Global Impact Scholarship from Palantir.  Krysten is the first UBC student to receive the scholarship.  Well done Krysten! More information about the scholarship is here.

Engineering Physics students Ben Huckell (left) and Jason Zhou (right)
Dear Students, The Engineering Physics admission process of 2021 has been adjusted to account for Covid and the inability for us to interview you in person. To apply to Eng Phys for fall 2021, please follow the next steps carefully: Record a short video of yourself addressing the questions below. The video must be no […]
Engineering Physics admission differs from other programs and includes a video and interview portion. Admission is based on a mix of your grades and your interview or video. Please read the section below carefully and attend the information session listed at the end if possible. The interview process for 2021 will be different from prior […]