Archives by date
You are browsing the site archives by date.
Ten $10,000 Women in Technology scholarships are awarded annually by the Irving K. Barber Society to students excelling at Computing / Data Science, Engineering or Mathematics at the post-secondary level.  Well done Parmis!
L – R: Tianna Hudak, Mojan Jamalzadeh. Cailin Ringstrom (behind bench).
The annual Engineering Physics Robot Competition, the final exam for ENPH 253, will be held this year in the UBC LIFE Building (the old SUB), Room 2201. 
The competition begins at 10 a.m.  Spectators should arrive at 9:30.  Come and cheer on our students!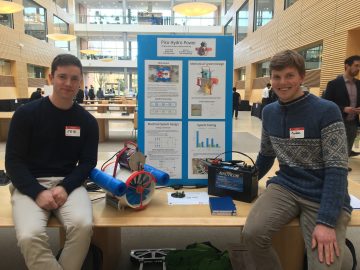 Congratulations Morten Kals and Erik MacLennan, winners of the Faculty Award at the Faculty of Applied Science Design and Innovation Day! Especially notable was the comprehensive execution of both projects, all the way down to the excellent video showcasing of the generator.  The level of quality and attention to detail was evident in all meetings […]
Calling all paper airplane fans! UBC Applied Science is hosting a paper airplane talk and workshop on Friday, March 29 at 12 noon in Kaiser 2020/2030. Come out and build the ultimate aircraft of your dreams. A series of short talks will kick off the event including a talk by Applied Science Dean James Olson. Ever […]
Wednesday, April 3, 2019 from 6 p.m. to 10 p.m. in the Engineering Student Centre, 2335 Engineering Road, Vancouver.  Dress is business casual. RSVP here.

Congratulations Engineering Physics students L to R Julia Rosenrauch, Emma Gray and Carol Ng for their first place finish in the first all-female Western Canada hackathon – an official 24 hour Major League Hacking event!

Rahat Dhande lifting weights while team mate Andrew Dworschak checks the motions to count type and number of exercises in fitness studios.
Photos by Clare Kiernan, UBC Faculty of Applied Science.