Archives by date
You are browsing the site archives by date.

ENPH 253 students Tori Koelewyn and Dan Herdman test their robot, preparing for the Pet-Rescue Bots competition on August 6, 10 a.m. in Hennings 200. Everyone Welcome! All the latest here.
Alexander Toews, Darrick Lee and Elizabeth Wicks were selected as one of 6 finalist groups, chosen from 19 submissions from institutions across British Columbia in the MDDC Awards for Excellence in Biomedical Engineering Student Design and Innovation. The project was done as an 8-month long project course in ENPH 459 by the 3 fourth-year Engineering Physics students. […]
A remote Canadian village is devastated by a train derailment and resulting explosions of containers filled with oil products. A few buildings are brought down. A toxic spill contaminates agricultural fields nearby. Authorities need assistance to evaluate the damage – how much of the agricultural fields are contaminated? Which structures within the disaster area have been […]
"Houston, We Have Lift Off!" L to R Alexander Dale, Scott Lawson, Bardia Beigi, Ricky Hu, Ranesh Saha Engineering Physics team SemperFizz wins Google Games University of British Columbia 2015 on May 2. This years theme was "Out of this World."   Events involved trivia, a building challenge, puzzles, word association and coding competitions. Bardia:  "We really […]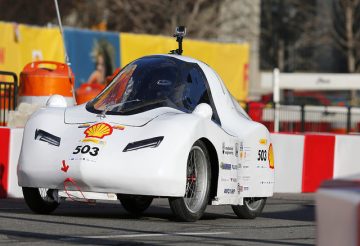 Congratulations to the UBC Supermileage Team at the 2015 Shell Eco-Marathon, winning silver in the Urban Vehicle category! Both UBC entries in the competition: the urban vehicle and the prototype vehicle were built in 8 months; a tremendous accomplishment! Engineering Physics students at the competition were Jory Wong, Derek Chen and Jeff Son. Derek Chen:  […]
Prof. Andre Marziali thinks the genome revolution will change the way doctors can diagnose the bugs that ail us.
Congratulations to Lucas Cahill, named Student of the Year by Science Co-op! "Throughout my time in the Science Co-op program, I have been fortunate enough to work both internationally, at Laser Zentrum in Germany, as well as nationally at the Brain Research Centre, UBC and at BC Cancer Research Centre. Co-op has allowed me to explore […]
Congratulations to Sagar Malhi and Michael Ip, pictured below at the Next 36 National Selection Weekend in January 2015 Sagar Malhi:  "The Next 36 pairs us up with some of the most prominent figures in Canada.  It is truly a unique opportunity that allows us to accelerate our personal and professional growth.  Engineering Physics has […]
The UBC Engineering Physics Project Fair was held Thursday, March 5th, 2015,  5pm-9pm at the Irving Barber Centre, Victoria Theatre. In addition to the senior project posters, our two guest speakers talked about the technology and business opportunities in satellites and high-quality imaging from space.   MDA's RADARSAT Constellation project involves end-to-end design, fabrication, launch and operation […]