Archives by date
You are browsing the site archives by date.

Fizz Beans is an opt-in program that sets up virtual chats between Fizzers.

We are very excited that our very own Bernhard Zender has been recognized with a President's Service Award for Excellence for 2020. This award is given to a handful of UBC staff every year who, to name just a few of the criteria, excel in their area of work, go above and beyond their job […]

Winners of the 2020 Robot Competition [with their robots] L – R: Nick Bratvold [Sawyer Sailor]; Lewis Arnold [Infinite Innovator]; Holden Jones [The Little RowBot That Could]; Mykal Bakker-Westeinde [Jenny]

Yas Oloumi Yazdi and David Black working on a breathing, anthropomorphic phantom for Positron Emission Tomography
Initially planned to take place in Bordeaux, France, the team was looking forward to attending their first team competition. However, due to Covid-19 policies, the competition was changed to virtual. Despite the challenges associated with working remotely, and on such short notice, they were able to qualify as the only North American team in their […]
UBC students Frank Jia (Engineering Physics), Isabella Funa (Kinesiology), Mikey Jose (Sciences), and Tricia Jose (Sciences) create initiative to connect mission-aligned businesses (who can provide their products for free or by discount) with BC healthcare facilities in need during the COVID-19 pandemic:  Supply the Frontlines. Frank Jia:  "By doing this, we hope to provide some […]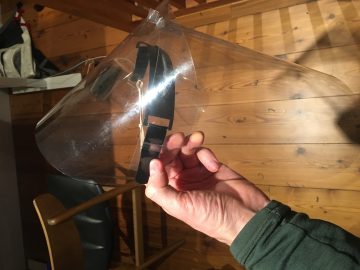 https://apsc.ubc.ca/spotlight/alumni/a-q-a-with-dylan-gunn-on-his-work-to-combat-covid-19 Face shields made by Packright The Engineering Physics Program thanks the Conconi Family Foundation for their generous financial support!

Congratulations Edmund Chan (far right) and his team L – R: Harmit Singh, Alexander Williams, and Lawrence Xiao for a first place finish!

E-Week is a week long competition among the engineering programs in events such as a 4-legged race, trivia, and a foosball tournament. "This victory represents the close-knit community in EngPhys, and our dedication to having fun while working together." Maria Phelan

SwipeLab app wins at LiteHacks 2020
L to R: Lukas Lund, Krysten Zissos, Mojan Jamalzadeh, Tianna Hudak